Source : ETonline.com (after 9 years you would think they would know how to spell his name correctly!)
William Peterson shares his feelings about leaving the hugely popular "CSI: Crime Scene Investigation" after nine years.
Peterson talks about what he thinks are the key ingredients for the worldwide success of the "CSI" franchise. He said these include "fabulous puzzles," "great chemistry," "courageous writing" and solid acting performed in a style slightly different from what people are used to on television.
The actor says it's difficult to perform his last scenes knowing that it will be the last time he'll be appearing on a certain set or together with a particular actor. He says one advantage to this situation is that he is experiencing the same feelings as his character, Gil Grissom, who is also making a major life change.
Peterson says he thinks now is the right time for him to move on — just like it is for Grissom, who is on a similar journey to figure out what is next after having done a job well for a long time. Click here for a Grissom gallery and catch his last episode on "CSI: Crime Scene Investigation" this Thursday at 9 p.m. on CBS.
Click the pic below to view the online interview – (video contains scenes from One to Go)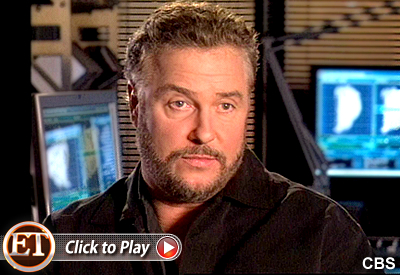 Also, for other updates, we do have several scans to add to The Gallery, which will be uploaded in the next day or two.