Once again New City Stage have announced their list of Chicago talent who have influenced the Chicago Theater Scene for the past year.    Billy is listed at #5.  (Last Year he was listed at #4).
Other noteworthy 'players' on this year's list are Amy Morton (#19), Stephen Louis Grush (#26) and Dennis Zacek (#28).  Check out the full list at the New City Stage website.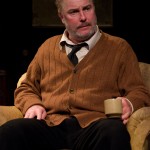 5. William Petersen  – Actor
While Chicago stages are blessed with many actors boasting varying degrees of Hollywood success, only one works the kind of box-office magic that's driving Broadway's biggest shows these days. Billy Petersen famously left the lead role of top-rated television drama "CSI," which he still produces, to return to Chicago theater in 2008. Though he joined the Steppenwolf ensemble (where he'll appear in "Endgame" this season), it was his role in the two-hander "Blackbird" at Victory Gardens last summer that really showed his market power, when the critically acclaimed production sold out every show that the theater could cram into its schedule, and became its biggest hit ever. Petersen's not just a pretty face, though—his performances on Chicago stages, dating back to the late seventies, are legendary.