An entire update dedicated to various theater news from old and new productions including images, video clips, audio books and exhibitions.
Steppenwolf Theater have released lots more rehearsal and production photos from Endgame.  These are available on their Flickr page, click the image below to take a look at those.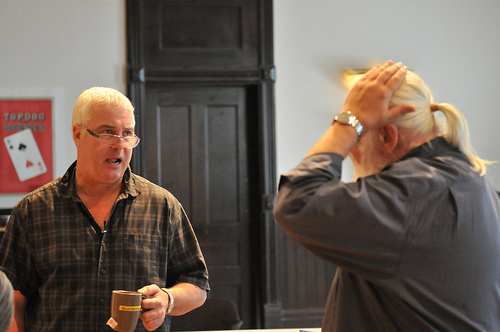 Great news in that another audio play will be available soon.   Flyovers is due to be released on audio cd soon (many thanks for the info Jeff).  You can pre-order your copy by visiting the link below.
We have actually heard the audio version of Flyovers and its definitely a must for your collections.
Flyovers Audio CD – Pre-Order
If you are visiting Chicago for Endgame or any other reason in the next few months, the Chicago Public Library on State Street is currently showing a collection of photos by our good friend, Lisa Ebright.  The exhibition displays 35 years of her photography and includes a few images of Billy from Moby Dick, Fool for Love and Balm in Gilead, but if you are a fan of Chicago Theater in general, you will enjoy the exhibition.
Her works are currently being displayed on the 9th Floor.  I do not believe you are allowed to take photos of the images displayed, so please be respectful if you are visiting the library.   The exhibition is running until October 3, 2010.
Many thanks to everyone who sent the following clip, I do believe credit goes to Ricker23 on YTDAW for sharing the link first.
A short scene from the Remains Theater production of American Buffalo has been uploaded to youtube  c/o Philthevideoguy.  Enjoy!