Hey everyone, we're bringing another giveaway to you courtesy of the kind folks at HIP Genius.
We have an official Detachment poster (thanks to HIP Genius) and a downloadable Billy treat for you to win.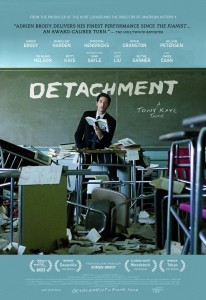 All you have to do is comment on this post, perhaps you've seen the movie, or are looking forward to seeing it, all you need to do is comment.
The poster will be sent from HIP Genius and as a result this giveaway is only open to those of you that live in the US (don't worry, we'll try and get another worldwide giveaway up later in the year).
Please make sure you enter with your correct email address, as this is how we will contact you.
Please leave your comment before Friday 9th March, and we'll announce the winner over the weekend.
Good luck everyone!
Entrees are now closed, we'll be announcing the winner this weekend.  Thanks everyone.