A news roundup from all our posts on Twitter and Facebook over the last couple of weeks, be sure to follow us on both not to miss anything.
Slowgirl News & Reviews
Slowgirl has been extended to April 27th – purchase your tickets at the Geffen Playhouse website.
The play had its opening night last week and the Geffen Playhouse shared some great photos on their Facebook Page.  Click the image below to browse the full set.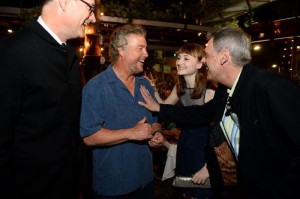 Rae Gray – Billy's costar shared the following image on Twitter
My guys. #Slowgirl #GeffenPlayhouse #OpeningNight pic.twitter.com/AVly80mYuR

— Rae Gray (@RaeAGray) March 15, 2014
Some great Slowgirl reviews and news articles out there, click on the links below:
We have also setup our own Fan Review page for this run of Slowgirl, if you're seeing the play and want to share your review or just read other fan reviews from previous plays, follow the link below:
To Appomattox News
We have been receiving lots of emails over the last few months in respect of To Appomattox, the Official To Appomattox Facebook page has confirmed that Billy will now play George Thomas instead of William T Sherman, the site will also start their kickstarter campaign very soon.   Keep an eye on their page for all the details.
Finally, Billy narrated the 100 Years of Wrigley DVD which is now available to purchase on Amazon.