We are sure many of you are as excited as we are about the upcoming To Appomattox Kickstarter that launches next week – April 16th, 2014
Our site has been supporting and sharing information regarding this project since late 2010, so to finally see things starting to happen we could not be more happy for all involved, and hope as many of our fellow William Petersen fans donate whatever they can to make this project finally hit our screens.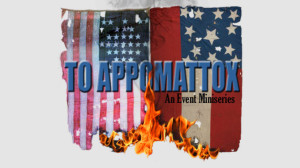 Some important information regarding the kickstarter is quoted below from the official To Appomattox Facebook page.
Once the Kickstarter site goes live and we are able to offer our rewards and take pledges we will have thirty days to reach our goal. Statistically, however, if we do not raise at least 30% of that goal in the first 24 hours, we stand little to no chance of getting there. Therefore, on the advice of Kickstarter, our campaign will run thirty-seven days; there will be one week of press and personal outreach via the web and the media followed by 30 days of the Kickstarter site taking pledges.
We urge you all to follow the To Appomattox Team on their following sites for further information including the link to the kickstarter page on April 16th.
Do not be alarmed Billy is not showing up in the cast section of the website right now, this is because there are ongoing discussions as to the role he will play, he is currently listed to play George Thomas, but is now in discussion to take on the role of Robert E Lee as per the quote below.
Now, one other thing that, to me is a disappointment, my very close friend of 14 years, Mr. Will Patton, who came on board 12 years ago to play Robert E. Lee and has never wavered in his support of this project, all my efforts and his great desire both as an American and a southerner to bring General Lee to life, has for personal reasons and with a very heavy heart, stepped away from this project and this role he has prepared for and loved so very much and for so very long.

Discussion have begun and are ongoing with Mr. William Petersen to step into this role. As disappointed as we are at the loss of Will, everyone on both sides of this conversation are excited at the prospect of Billy's portrayal of Lee and all of us hope that we are able to make this work.
Also in the news today, an article from Variety regarding the kickstarter – Civil War Miniseries to Seek $2.5 Million on Kickstarter.