In what can only be said as a pretty abysmal display of promotion from all of the UK TV guides given the CSI Series Finale airs on Tuesday, September 29th on Channel 5, TV & Satellite Week had the following from their Sept 26 – Oct 2 edition: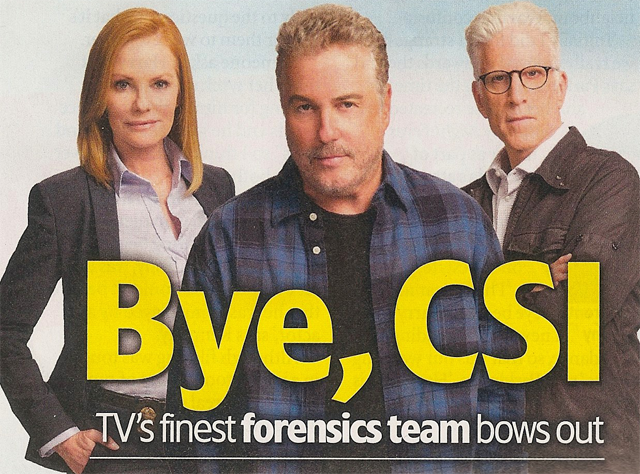 It's the end of an era this week when groundbreaking crime drama CSI: Crime Scene Investigation comes to an end after 15 years, with the show's famous them tune – The Who's Who Are You – blasting one last time.
Since it began, the show has topped ratings around the world and spawned three spin-offs.
After declining ratings, the series bows out on Tuesday with a two-hour special, part of a CSI night on Channel 5, which reunites former cast members William Petersen and Marg Helgenberger (Gil Grissom and Catherine Willows) with the current Las Vegas team headed by Ted Danson as DB Russell.
The storyline details have been kept under wraps, but sees the team come back together to help solve a case that paralyses Las Vegas when bombs hit the casinos that Catherine inherited from her father.
"What I can share is that it is going to be a crowd-pleaser, and the true die hard fans will be satisfied," says Helgenberger.
However, the CSI franchise is far from dead.  CSI:Cyber, debuts on Channel 5 next week, starring Patricia Arquette, with Danson's character also moving over to the team.  Here are five things we've loved over 15 years of CSI…
MOST GRUESOME MOMENT
There are certainly plenty to choose from, but who can forget the murder of a bowling alley worker, whose severed head shows up in a bowling ball return during a tournament.
BEST GUEST STAR
Justin Bieber as serial killer? Yep in 2010 the teen heart-throb played a cop-hating bomber who went down in a hail of bullets.
BEST VILLAIN
It's got to be The Miniature Killer (Jessica Collins), who'd create meticulous scale models of each of her murders – from bludgeoning to poisoning – and then leave them at the crime scenes.
BIGGEST SURPRISE
No one could have predicted the death of investigator Warrick Brown (Gary Dourdan) in 2008 when he was shot and killed a Vegas diner.
BEST EPISODE
It was an inspired idea to get Quentin Tarantino to direct a two-parter and 2005's Grave Danger didn't disappoint, with investigator Nick (George Eads) kidnapped and buried alive.