3 more great Blackbird Fan Reviews have been added, be sure to check those out.
Broadway World and the Rock River Times have also reviewed Blackbird.
From the Chicago Tribune (article does contain brief spoilers for the upcoming season of CSI)
'CSI' changes afoot: Could Grissom return? What's up with Langston's clothes?
"We're hoping Grissom will make a return appearance we don't have a date and we don't have a deal, but we talk to Billy all the time and he would love to come back," Mendelsohn said.
Seems lots of articles have been speculating Grissom's return off that quote right there.   Until it's officially confirmed, we aren't getting too excited.
Sadly, Blackbird at Victory Gardens has now finished, and it certainly was a very successful production.  Congratulations to all involved.
There is now an 8 month countdown for Billy's next play Endgame at Steppenwolf Theater.   The following information is from the Steppenwolf website.
---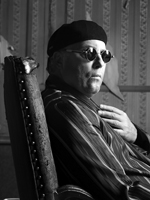 ENDGAME By Samuel Beckett
Directed by ensemble member Frank Galati
Featuring ensemble members Ian Barford, Francis Guinan, William Petersen and Rondi Reed.
In the Downstairs Theatre
Thu. April 1, 2010 — Sun. June 6, 2010
Tickets for this production go on sale: 1/28/10
Beckett's absurd comic masterpiece follows Hamm, a blind man unable to stand, and his servant Clov, who is unable to sit, as they pass their days in a tiny house by the sea—if the sea still exists. Pestered by Hamm's parents, they move through their daily rituals, awaiting the end of everything. A powerful all-ensemble cast anchors this profound exploration of the stories we construct to make sense of our lives.
---
We will be posting news of our upcoming fundraiser within the next couple of weeks. The purpose of this fundraiser is to raise money for Victory Gardens, all monies received will be donated in Billy's name to the theater.  Stay tuned.
Finally, don't forget to follow us on Twitter  for some random "Billy Blurts" and cool content.