July 18th is just around the corner when previews start at Steppenwolf Theatre for SLOWGIRL.
There have been some great articles and photos published in respect of the play over the last week which we have shared via Twitter or Facebook, and below is a roundup of those articles.
After 3 weeks rehearsals in LA at the Geffen Theatre (Billy will be appearing there in Slowgirl next year), rehearsals have now moved to Chicago and Steppenwolf have released their first batch of rehearsal photos from the play featuring Billy and his co-star Rae Gray, click the image below to view the images on the Steppenwolf website.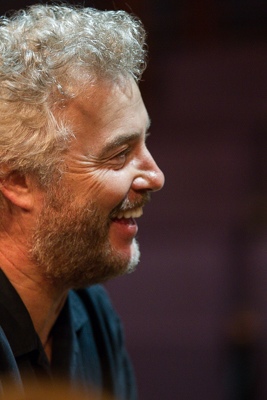 Steppenwolf also have the SLOWGIRL program online featuring a conversation with Artistic Director, Martha Lavey, Randall Arney, who is directing the play and Billy, and several other articles worth reading.   Links to the program and articles are featured on Steppenwolf's website.
The very talented Rae Gray has also shared some great photos on Twitter and Facebook pages, be sure to check those out.
Chicago theatre critic, Hedy Weiss also shared a great image from rehearsals via Twitter.
If you are interested in going to the July18th SLOWGIRL preview, one of our Facebook members has a spare ticket, please contact us and we'll put you in contact with them.
We have been asked if we are doing Fan Reviews, yes we are, the page will be setup later this week and we are looking forward to hearing your thoughts on the play.
Lastly, not Slowgirl related, but a great image nonetheless, taken back in 2008 when Billy appeared at the "Take me out to the Ball Game" singing competition (image and clip (avi format).
More coming soon.